Our verdict
89
Great!
A super shoe is now on its way to becoming even more super. Say hello to the Endorphin Pro 3 from Saucony—a racing flat that can go fast and far. It's lightweight, incredibly energetic, and smooth-rolling; setting and breaking marathon records is as easy as easy can be. And if you crave that extra cushion for the extra miles ahead, the Saucony Endorphin Pro 3 won't let you down.
Pros
Speedier than ever
Snappy toe-off
More cushioned for long runs
Stable for during sharp turns
Perfect breathability for hot weather
Race-ready fit
Gusseted tongue
Insanely light
Grips on soaked pavements
Cons
Causes heel rubs
Toe box can be roomier
Who should buy the Saucony Endorphin Pro 3
The third version of the Saucony Endorphin Pro is a great buy if you want a:
carbon-plated running shoe that offers an insane amount of energy return
long-distance racer that's best suited for half to full marathons, especially during summer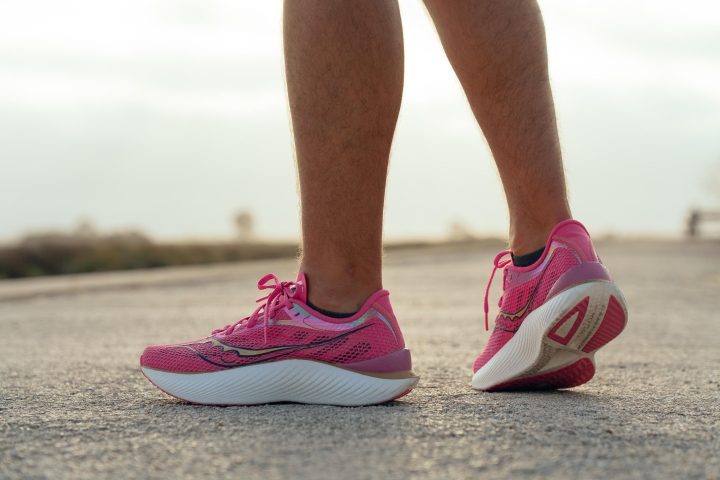 Who should NOT buy it
Although fantastic, the Saucony Endorphin Pro 3 is not without fault. And if you want a racing shoe that won't be abrasive on your heel, the Endorphin Pro is not it. Instead, you can take a look at its tempo/race-day younger brother—the Saucony Endorphin Speed 2.
Want ample room for your toes when they start to swell? The ASICS Metaspeed Sky is a dream come true for runners who love their toe box spacious. Heck, it can even fit wide feet.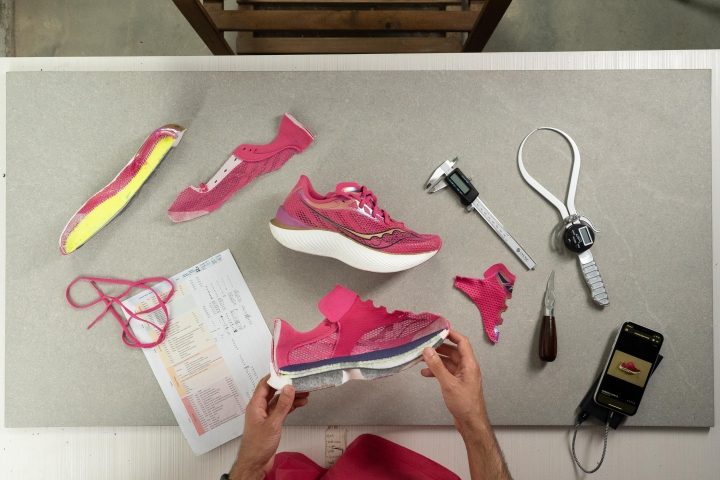 Endorphin Pro 3 vs. 2
"The greatest made even greater" and "a superfied super shoe" are some of the remarks left by reviewers who are floored about the updates made to the crowd-favorite Saucony Endorphin Pro. This time around, it's:
lighter (from 223 grams/7.9 ounces to 204 grams/7.2 ounces) and more breathable, thanks to its stripped-down upper
also outfitted with a new tongue to improve ventilation and lockdown even more
cushier, more responsive and protective with an added foam of 4 mm
better-gripping than before because of its new outsole layout
a tad roomier in the toe box
And the overall experience? "The combination of all these things has elevated the Pro into the top-tier status," remarks one running expert.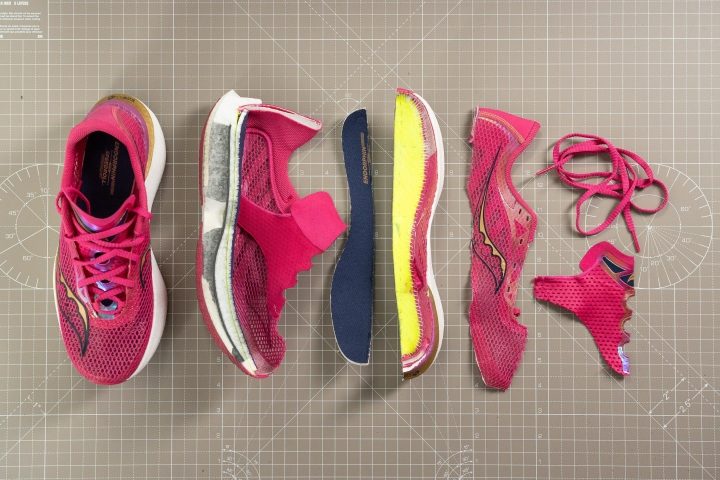 Stiff and great in the freezer
To be this snappy, the Pro 3 had to be stiff. On our flexibility test, we needed a force of 94.4N to bend it at room temperature. On average, we need 3x less (30.8N)!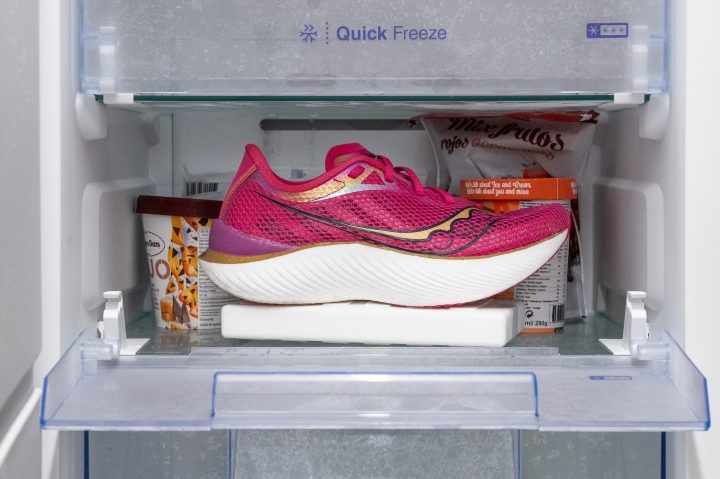 And, after 20mins in the freezer, Saucony Endorphin Pro 3 got only 16.7% stiffer. Other shoes tend to get 40.3% stiffer, on average.
On our subjective tests, it scored 5/5 for longitudinal flexibility (5 being the stiffest) and 4/5 for torsional stiffness. The average for all the shoes in our lab is 3.3 for longitudinal and 3.4 for torsional flexibility.
Ready to break records
Yes, you heard that right. The oh-so-speedy Saucony Endorphin Pro is now even faster. "Man, it felt awesome. It felt effortless," says one video reviewer. "It's a ball of energy that makes you bounce through your strides.
Midsole with lots of pop aside, it's also complemented by the S-shaped carbon-fiber plate that literally "snaps you forward," describes another runner. Another even goes as far as saying, that the Saucony Endorphin Pro 3 is "ready to send you to the moon."
An oh-so-smooth ride
On top of its snappy and responsive ride, it has a very seamless heel-to-toe transition, making your run feel even more effortless.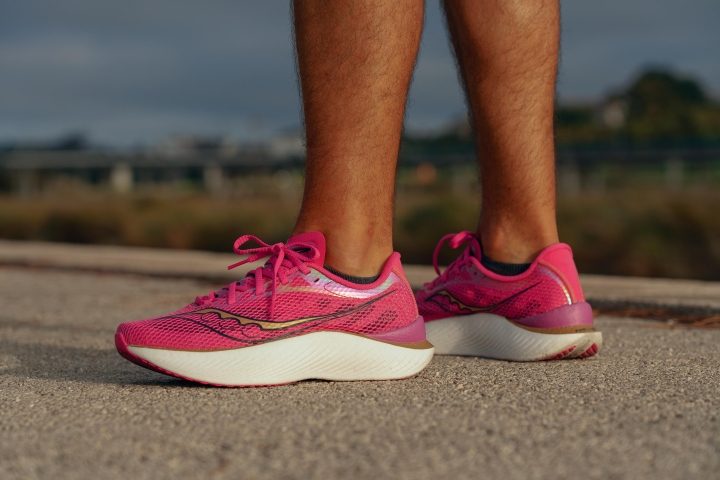 Overall, in contrast to other super shoes, "none of them quite bedazzled the way the all-new Saucony Endorphin Pro 3 does," proudly expresses one road racer.
Goes the distance
The past Endorphin Pro 2 has crushed it in the speed department "but over the long haul left the legs a little beat up," remarked one road running athlete. But in the third version, it's more forgiving. Another reviewer also adds that "It's a lot of shoe." And this is because it's more cushioned than before.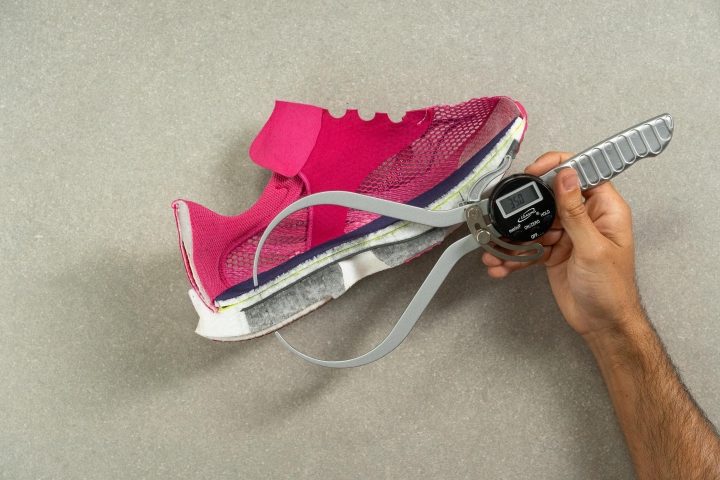 How much is "a lot?" At the heel, we have 35mm, which is above the average of 32.7mm. And at the forefoot, the difference is smaller but exists: 25.7mm compared to the average of 24.1mm.
Simply, it becomes its own shoe at half to full marathon distances. So if you're worried about having your legs and feet feeling thrashed after a half or full marathon, you don't have to in the Endorphin Pro 3. For reference, it feels as comfortable as the Nike Vaporfly NEXT% 2 and the NB FuelCell Elite v2.
Plants you to the ground
With a heel base as wide as the Endorphin Pro 3's, "just the Alphafly cant match its heel width."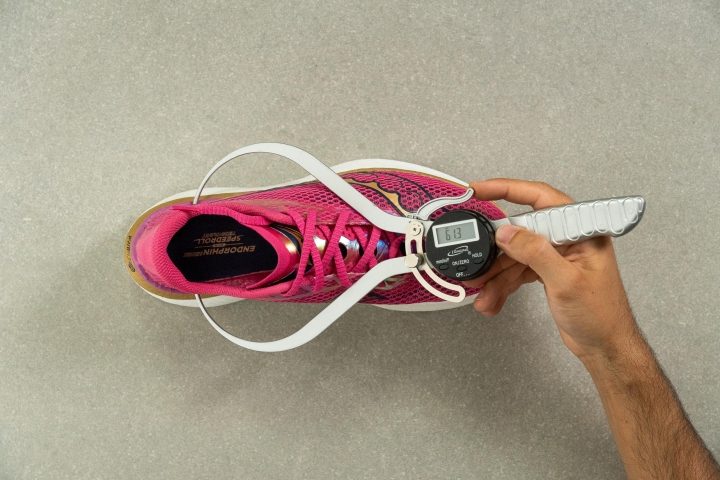 What does this mean? It's one heck of a stable shoe. So much so, it still inspires confidence even when running sharp turns.
Fact check
To check this, we looked at the lab numbers. While the width of the midsole both at the forefoot and at the heel sits around the averages (109.3mm and 86mm, respectively; averages: 111.8mm and 88.9mm), the widths of the upper are significantly narrower than the averages. At the forefoot, we have 94.3mm (average is 98.6mm) and at the heel, we have a surprising 61.3mm (average is 76.2mm). This confirms that the base is much wider and that helps with the stability many have reported on.
Gains more foam but loses weight
And this makes the Endorphin Pro 3 from Saucony, in the words of an expert, "authentically badass." And to achieve this, there are cutouts underfoot that keep the weight as little as possible.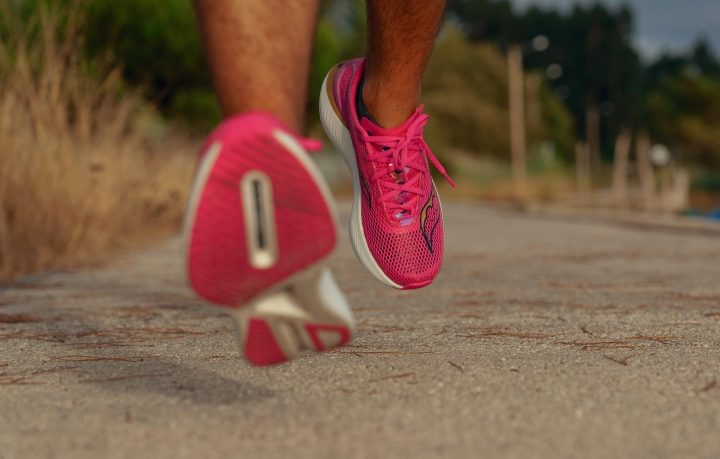 It's so light even with the added foam, multiple test runners have these comments to profess their love for this shoe:
"slipping them on and straight away they feel light and airy"
"worth its weight"
"lighter despite there being more foam"
For comparison's sake, the Saucony Endorphin Pro 3 weighs in at 194 grams/6.8 ounces. Racers (on average) weigh in at 214 grams/7.5 ounces in US men's 9. Meanwhile, carbon-plated shoes weigh in at 227 grams/8 ounces, on average.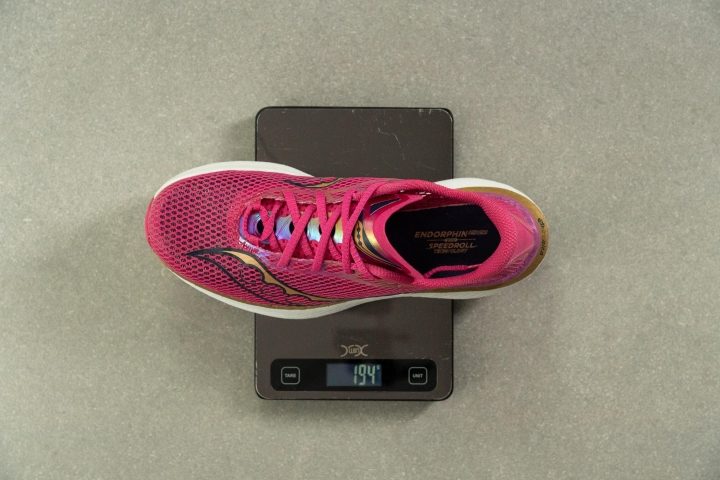 Upper: THE definition of minimalist
The upper is not only thinner; it's, in fact, extremely thin. But despite this, "It actually feels very pleasant on the foot," compliments one critic.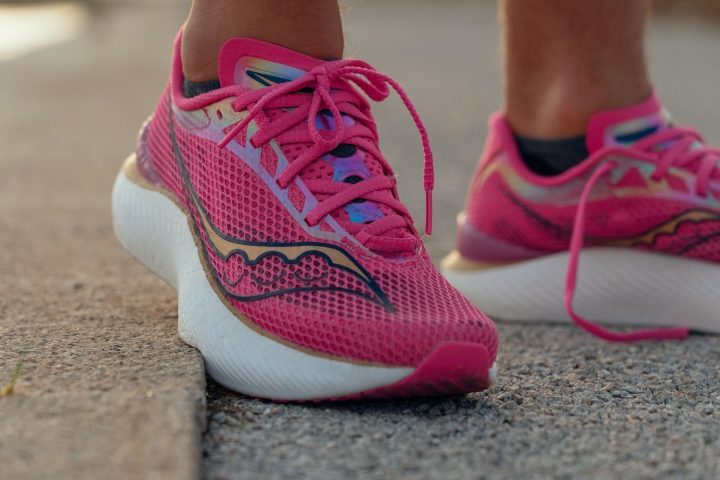 The tongue is also just as trimmed-down, but again, it's one of the most comfortable gusseted tongues out there. Even when cinching the laces down, it's still comfy AF.
Fact check
Just how trimmed-down the tongue actually is? It measured 1.2mm on our caliper! The average in our lab? 6.0mm! That's one race-fit tongue, confirmed.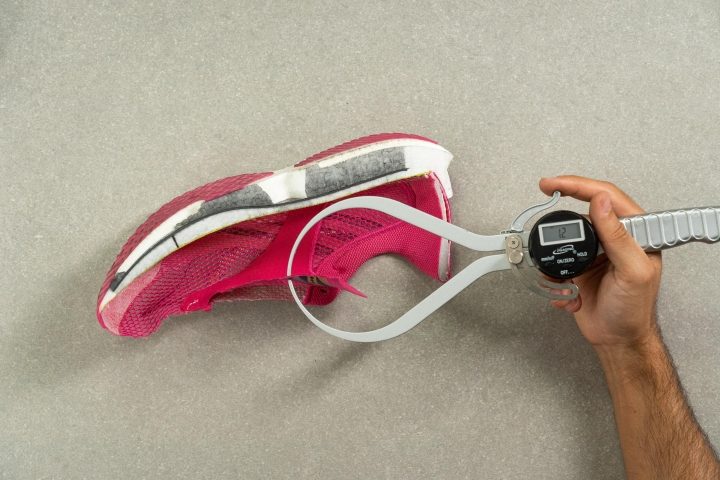 The upper is made even better
Because it's so thin, you can literally see through it. And what does this mean? As one road runner explains, "It can't be more breathable."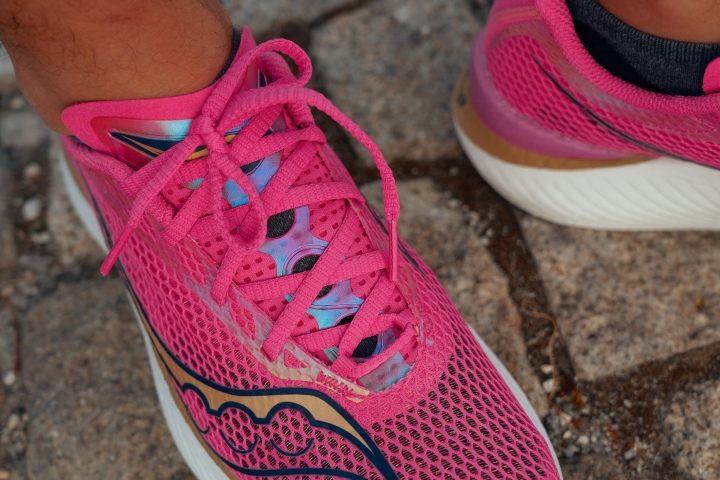 And if you're looking for a running shoe to race in the summer, this fits the bill so well!
The heel is a party pooper
The upper's wrap would've been A-OK if it weren't for the heel.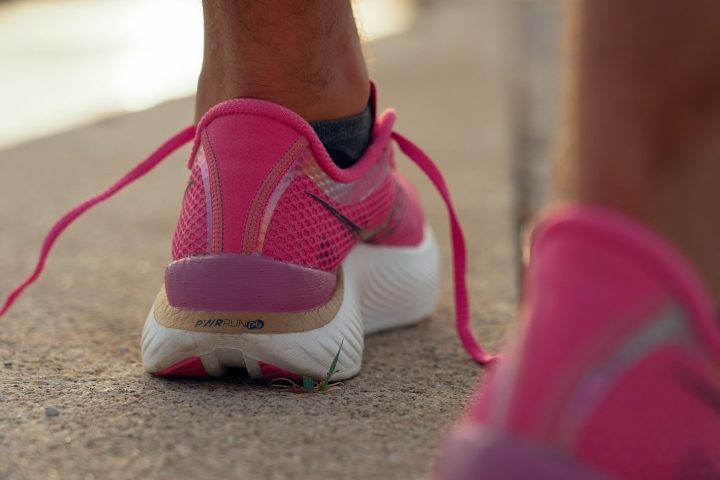 Its inner lining is quite harsh; one expert states this: "I think I'm gonna put a bandaid on to make sure I don't get a blister." And two others add that it does indeed rub the achilles.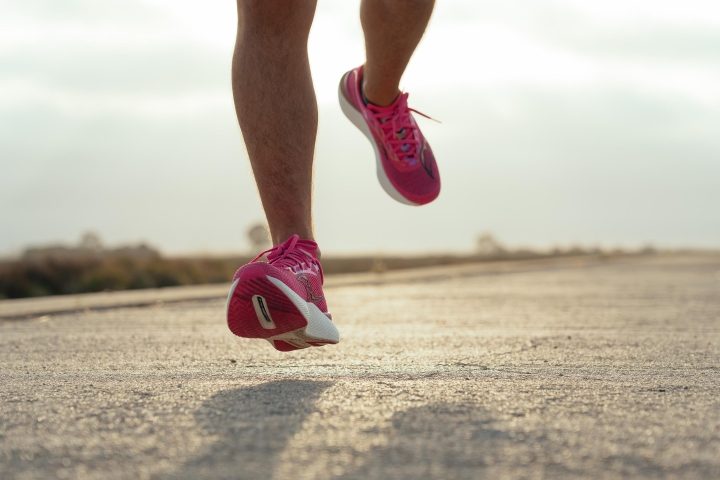 As secure as a racer needs to be
"Pretty darn good," "as good as any racing shoe out there," and "doesn't slip anywhere really" are some of the feedbacks from runners about the Endorphin Pro 3's fit. It has a very secure foothold; there's no need to do a runner's knot in it. And for a tall shoe to be this supportive, it's pretty impressive. Even when cornering, you don't have to worry about feeling tippy.
Toe box is kind of a miss
"The fit isn't perfect in the toe box," reports one running shoe reviewer. It's on the narrow side, which is kind of a bummer since it's a marathon racing flat. Supposedly race running shoes need adequate room in the toe box for foot swelling, but it's not the case here.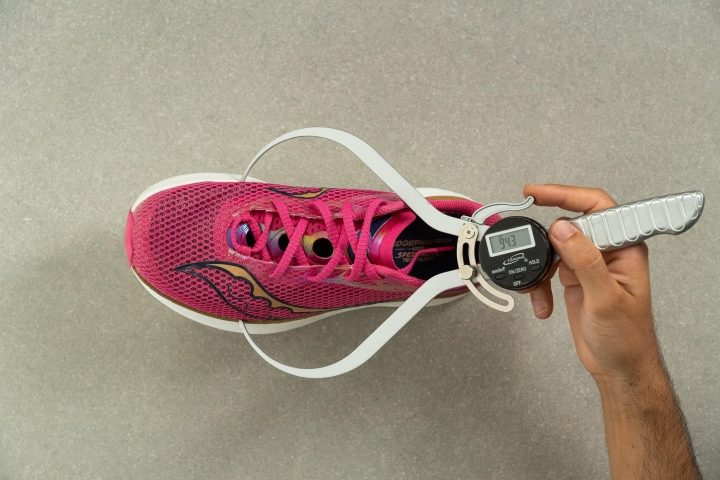 Fact check
The width of the upper at the forefoot is below the average, lab numbers have confirmed. It measured 94.3mm while the average for all the shoes in our database is 98.6mm.
And because of this, a running athlete shares that his small toe "would always rub on the outside of the shoe." He then continues, "It also caused a hotspot on my root foot specifically."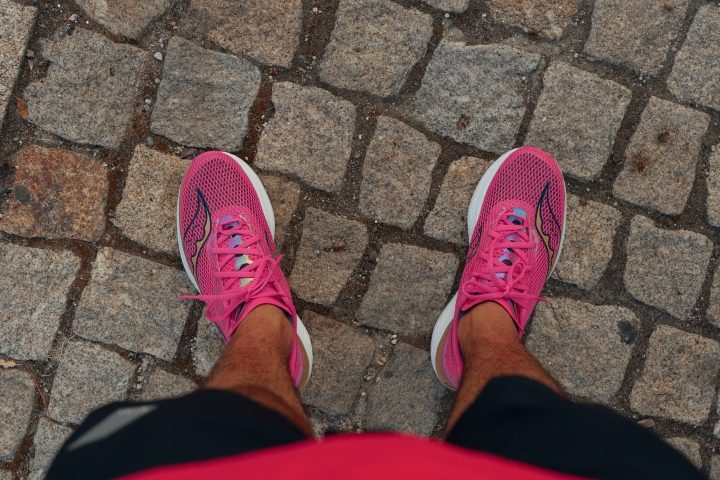 Grippier now
What's even more surprising about the shoe's barely-there weight is it doesn't skimp on the outsole rubber.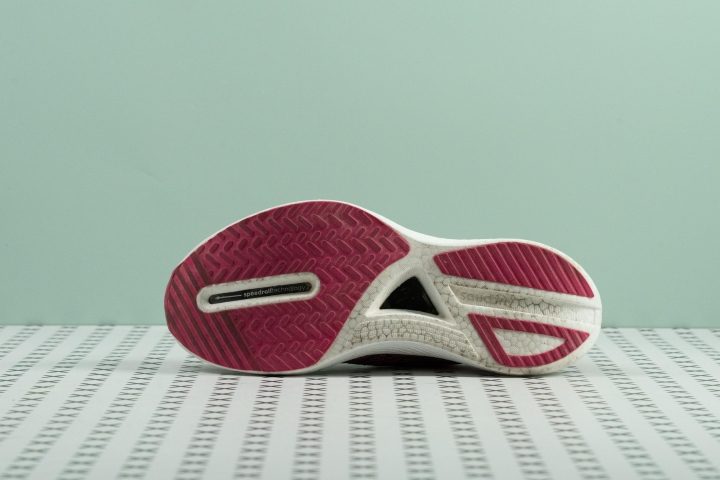 So much so, it gives an amazing grip on both wet and dry road surfaces. And this is a lot of improvement, given that the first two iterations didn't have much to offer when it comes to traction.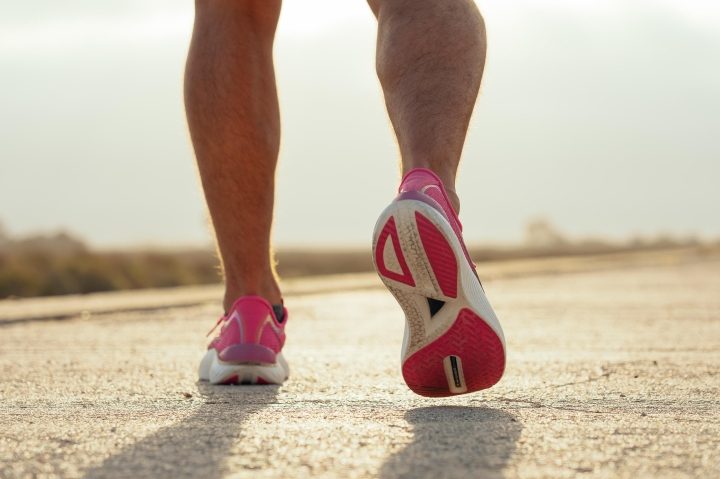 Encapsulating the majority's verdict on the updated outsole is this remark from one tester: "I never thought the older ones slipped much but having tried the 3's, wow."
Average visibility for night runs
It's not like they shine like diamonds but also, it's not like they are muted in the dark. Just OK. To be on the safe side, we'd recommend wearing something else with reflective elements.
Author Jens Jakob Andersen
https://runrepeat.com/uk/saucony-endorphin-pro-3